Zandvoort is one of two permanent race tracks in the Netherlands. The history of the track starts shortly after World War II. From 1952 to 1985 the Grand Prix of the Netherlands was run at Zandvoort. Zandvoort will return to the Formula 1 calendar in 2020.
The track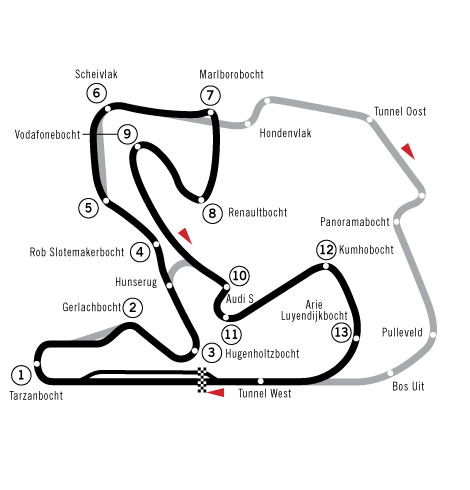 Zandvoort has been modified several times throughout the years, the current layout is in use since 1999. The length of the track is 4.3 km, it features a combination of fast and slower corners. The location in the North Sea dunes is pretty unique. Quite typical for a track that hasn't seen Formula 1 use for some time is the lack of paved runoff areas. A mistake will usually end in the gravel pit or the barriers. This makes Zandvoort a bit more challenging to drive than some other tracks.
Driving
There are several possibilities throughout the year to drive on the Zandvoort track, such as the Vrij Rijden (Free Driving) days and various trackdays. More information can be found on the website of the track. Vrij Rijden is usually quite busy and chaotic.
YouTube